For anyone with a professional or semi-professional dress code at work you know how difficult it can be to find fashionable yet sensible clothes for work! So I did the hard part for you! Below are 10 tops to buy for Fall (or winter) that are in style, appropriate for work, and each of them are under $100.
*** This article may contain affiliate links that I receive a small commission off of. As an Amazon Associate I earn from qualifying purchases. I always appreciate any support to keep this site running! Thank you!***
I definitely have my favorite stores to shop at for professional clothes and this list highlights 5 of them:
Loft
Target
Nordstrom
Express
J Crew Factory
So if you are looking more more options than just these 10 then I highly recommend looking around on all of their sites to look for professional (and affordable!) clothes for work.
I LOVE this rich plum color for both fall and winter. It adds a pop of color that is still professional and can be worn by itself or under a black suit. The neckline is super appropriate for work but the ruffle touch on the neck and the cuffs keep this top from looking too boring.
Store: Loft
Cost: $49.50  (but sign up for Loft's emails because they constantly have sales and deals, I never buy things full price from them!)
Plaid is perfect for fall but not always so perfect for work. Which is why I was super excited when I saw this top from Loft. The high neck and simple colors turn a pattern usually reserved for casual clothes into a work appropriate top that looks great on its own or under a blazer or sweater (this top with a cream cardigan would be perfect).
Store: Loft
Cost: $59.50  (see my note above about looking for deals, you can certainly get it cheaper)
Like most of the tops on this list this can be worn under a blazer or on its own if your dress code allows no suit jacket/blazer. It fits tight enough that it isn't a bulky sweater so it works under a blazer but it isn't so tight that it becomes unprofessional.
I also love the neutral colors, they are great for all seasons so this sweater can also be a transitional piece. I wore this to work this week and got a bunch of compliments. It's simple yet so cute and super flattering on!
Store: Target
Cost: $19.99 (yessss)
I am all about this green blouse! I love the color for fall and the tie neck adds something extra and fun to this top but it is still totally work approved. This with wide-leg trousers and you have a slightly more casual but still professional work outfit for a chilly fall day.
Store: Target
Cost: $29.99
Hounds tooth just screams cold weather to me. It's a simple enough pattern that it is totally cool for work yet it isn't a basic pattern that you see all over professional clothes. This is totally one of those work shirts that you can style 30 different ways and dress up or down depending on your day and your companies dress code.
Store: Express
Cost: $59.00 but currently on sale for $35.94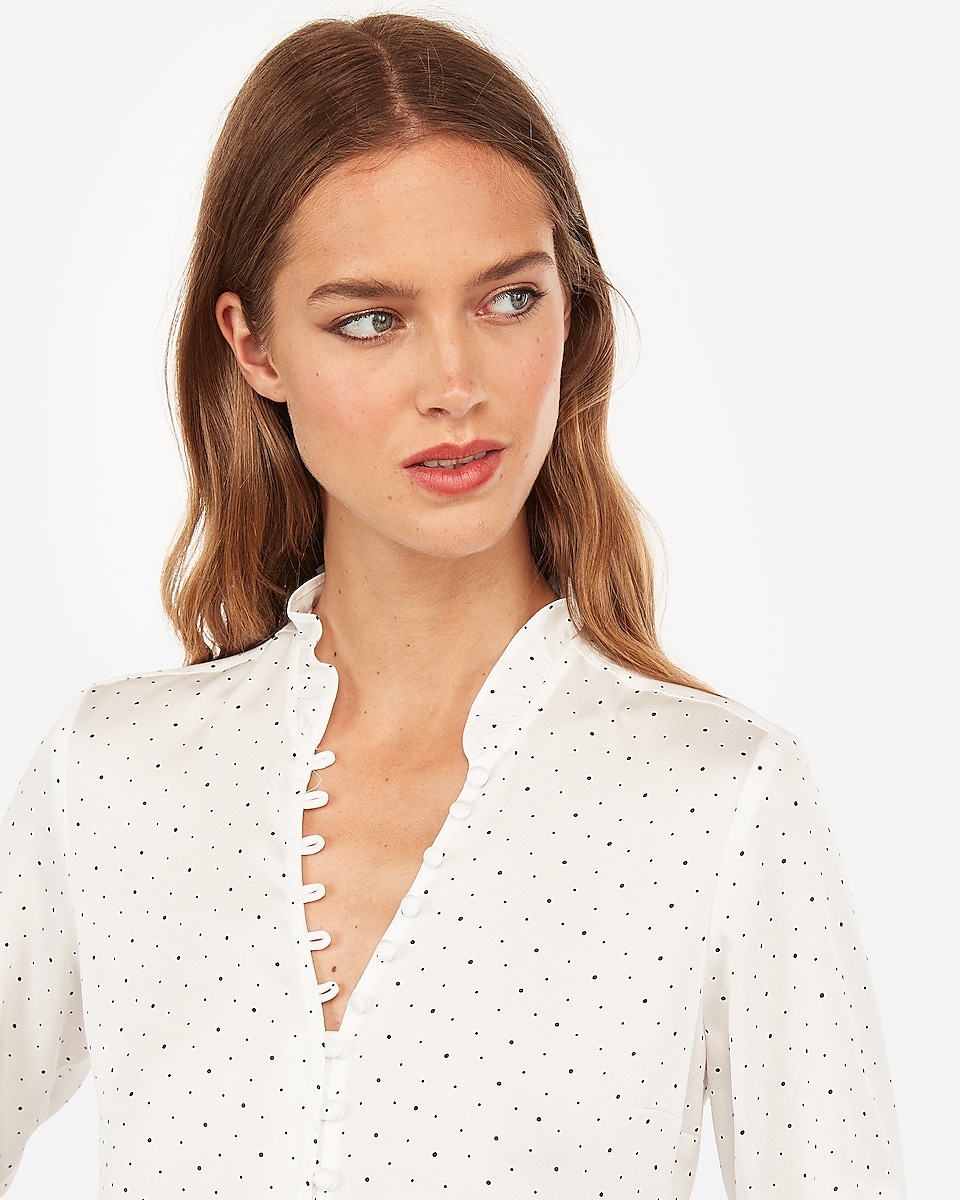 The print on this cute top immediately drew my attention but if this isn't the right style for you don't worry they have it is so many other colors (including a navy that I am definitely eyeing). I really like button up shirts that don't look like a traditional button up shirt. Buttons make the neckline adjustable so you can style it how you want and makes a shirt go from just a work shirt to a shirt you can wear out on the weekends too! Versatility is key.
Store: Express
Cost: $59.00 but currently on sale for $35.94
Okay the short sleeves makes this not appropriate for a lot of work environments but I wanted to include it for those that can wear short sleeves to work and for everyone else just throw a blazer on over this cute tweed top because for just $27 this top is totally worth getting as a perfect fall layering piece.
Store: J Crew Factory
Cost: $26.50

I have been in love with scallop hems for years and I am head over heels for this sweater because it looks like a simple, boring, super work appropriate sweater until the very bottom where the scallop hems adds a little cute touch that makes this sweater stand out.  I am super guilty of buying primarily neutral sweaters which definitely adds to me loving this sweater.
Store: J Crew Factory
Cost: $48.50
I will be the first to admit this top is not for everyone but I am still obsessed with it! Finding a blouse that has leopard print but is still overall appropriate for work is not an easy task. The collared top in my opinion takes this top from a casual top to one that you can wear to work. I will definitely wear a black blazer over to minimize the leopard effect but I still want the leopard and the collar visible.
Store: Nordstrom
Cost: $79.00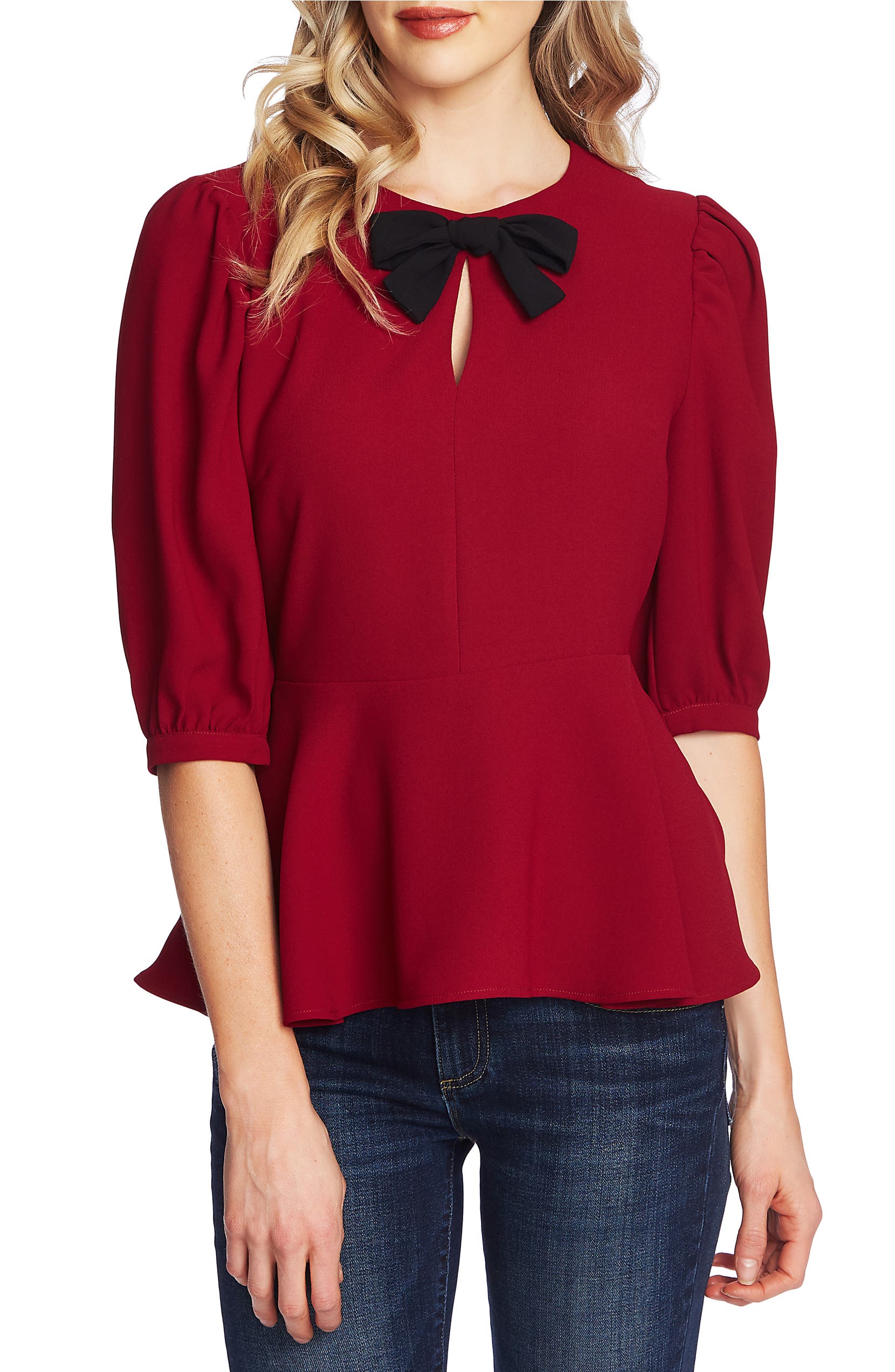 The bow at the top I was initially hesitant about but given the other features I totally came around on this shirt and I love it. So let's focus more on the color and shape of this top! I love the deep ruby color but there is also a more vibrant red that it also fantastic. I have always been a fan of peplum tops because they are so flattering.
Store: Nordstrom
Cost: $59.40 (on sale, go get it!)
Let me know where your favorite places to shop for professional clothes for work is! I am always on the hunt for clothes that are both professional and fashionable.
Korra-Shay